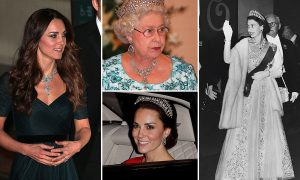 The family heirlooms are the sweetest things are passing through generation, they are lovely because they have memories behind them, when it comes to royal family, the treasure trove of priceless gems waiting to be lend or borrowed are the best family heirloom that anyone could ever ask for, not only because of its value but also there are incredible stories about the people who have used the in some especial occasions. In fact, reappearing a piece of jewelry after long time in the public by another royal family member is a perfect clue to reveal the actual size of this treasure, a piece of jewelry has been made by an artist years and years ago then it passed through times, it is easy for them to vanish into forgotten corner for years, however, recently monarch has loaned some pieces to royal wives along with some items that she herself still wears, here is a roundup of some occasions that Kate Middleton has stepped out in jewels on, loaned from her majesty.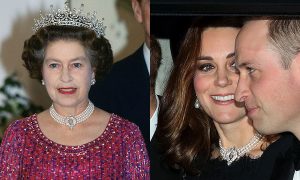 FOUR STRAND PEARL CHOKER WITH DIAMOND CLASP:
First it was gifted to the Queen Elizabeth in 1990s by Japanese government, this masterpiece is four strand pearl choker features a central diamond, Harry and Princess Diana borrowed this striking necklace to wear at the state banquet in 1982 for the 70th anniversary celebration of the Queen and prince Philip on 20 November 2017, the royal watchers spot it as Kate arrived at Windsor castle.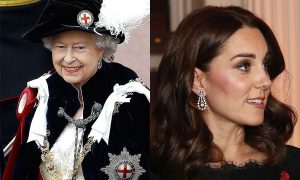 DIAMOND PENDANT EARRING:
Mentioned by royal jewelry watchers, these large diamond earrings a cluster of diamonds which is suspended a line four diamonds that swings within a frame of more diamond were worn at the state opening of parliament in 2012 by the Queen, since 2016 Kate has worn them in different type of occasion.
RUBY AND DIAMOND BENDEAN NECKLACE:
Even after shortening the necklace still is a difficult to wear jewelry, the floral necklace was bought from Boucheron in 1907 and gifted to Queen Elizabeth II's mom, the Queen wore it mother upon her death in 1942.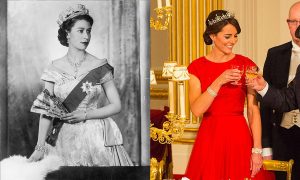 PRINCE PHILIP DIAMOND BRACLET
As a wedding gift prince Philip's other gave him a tiara, as a matter of fact he was royal navy officer, without much money by the time he proposed to Elizabeth, that jewelry turned into his fiancé's wedding ring and the rest of it transformed into a wide geometric bracelet made of three section each with a large diamond in the center, matched with more diamonds, the bracelet was worn by the Queen regularly and finally in 2015 loaned it to her granddoughter_in law Kate for state banquet.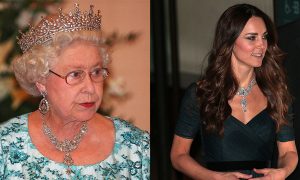 NIZAM OF HEYDARABAD NECKLACE:
When the Queen Elizabeth II married prince Philip, one of the richest men in the world, the Nizam of Heydarabad gave her a wedding gift, the royal opted for diamonds choosing an ornate floral tiara and matching  necklace, which includes a detachable double pendant drop, she wore the necklace continuously especially in official portraits, the duchess Kate for the national portrait gallery annual gala loaned it.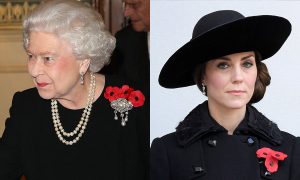 BAHRAIN PEARL DROP EARRINGS :
Several large pearl and two round pearls were used on the bottom of these dangling earring as a wedding present were gifted to princess Elizabeth in 1947, the earrings also have round and banquette diamonds. Years and years these earrings were forgotten like many other Queen's jewelries but, recently worn first by Sophie, countess of wessex and later by the Queen herself and then Duchess Kate.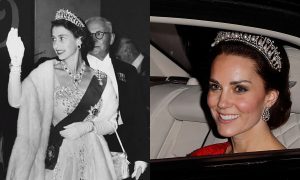 LOVER'S LNOT TIARA:
A beloved tiara which pearls swings from diamond aches was owned by Queen Mary's mother, was copied in 1913 and she left it to her own granddaughter, Elizabeth II, who wore it frequently in 1950s and she loaned it to princess Diana in 1981, although she always complained it was heavy and noisy when its large pearl drops were swinging, in 2015 they added a velvet band at the bottom of the tiara from matched to the duchess Kate brunette locks.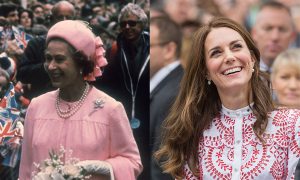 SMALL DIAMOND AND PEARL EARRINGS:
Queen Elizabeth II has several pearls of discreet diamond and pearl earring that she wears at day time after 1977, the earring seemed to drop the royal jewelry chain, later they were worn by other royal family members and recently in 2016, Kate find them suitable for two trips abroad, Canada and then Netherlands.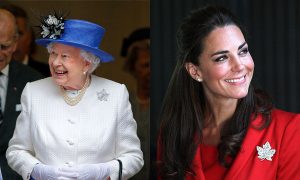 MAPLE LEAF BROOCH:
The brooch has become a symbol of Canadian related events, this diamond Cartier brooch in the natural shape of maple leaf, it was bought by Queen Elizabeth II'S Father King George VI for his wife, Elizabeth in historic Canadian tour in 1939, later her daughter wore it in her first visit to Canada in 1951 than it was loaned to Camilla, duchess of Cornwall in 2009 and then to Kate who wore it, in 2011 for Canadian day and in British Columbia in 2016.