The 13 Most Expensive Pieces of Celebrity Jewelry
CELEBRITY JEWELRY 
ANGELINA JOLIE
$2.5 million
This list comprises the most expensive pieces of celebrity jewelry ever worn. Angelina Jolie is one of the most beautiful women in the world. So it's no surprise that her jewelry is also beautiful.
Angelina Jolie showed up at the 2009 Oscars wearing an astonishing pair of earrings. The emerald drops cost an absolutely staggering two and a half million dollars. The earrings are now famous as one of her best-ever looks.
The earrings were designed by Lorraine Schwartz. They were dazzlingly beautiful. The emeralds were 115-carat.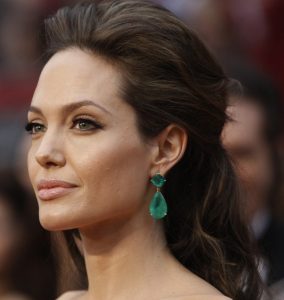 CHARLIZE THERON
$4.5 million
Charlize Theron wore a very expensive pair of diamond cuffs to the 2013 Oscars. It's not really possible to get cheap diamond cuffs. But these took the cake. Maybe a few cakes.
Her white Christian Dior Haute Couture gown was paired with two huge diamond cuffs. The overall effect was one of impressive, if monochrome, elegance.
Theron wasn't nominated for any Oscars that year. But in 2013 she was nominated by the Academy of Science Fiction, Fantasy & Horror Films for a Saturn Award. Unfortunately, her performance in Snow White and the Huntsman wasn't strong enough to land her the win.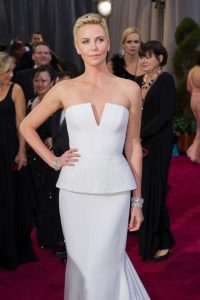 ANNE HATHAWAY
$10 million
The 2011 Academy Awards were co-hosted by James Franco and Anne Hathaway. When you're hosting the show, you have to come in style. And so Hathaway did.
She arrived on the red carpet wearing a red Valentino gown complemented by a $10 million Tiffay & Co. Lucida Star diamond necklace. Estimates place the necklace's weight at 94 carats.
Hathaway underwent seven separate outfit changes during the course of the show. Though none of the other jewels she wore stacked up to the Tiffany necklace. Ten million is a lot of millions.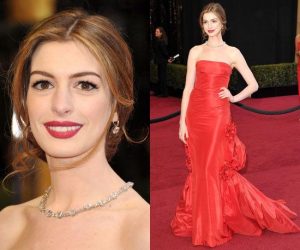 NICOLE KIDMAN
$7 million
Nicole Kidman is one of Australia's favorite daughters. She's known for her personal style and great acting ability. The 2008 Oscars were a chance for her to fan her feathers.
Kidman wore a custom-made L'Wren Scott necklace that was made with over 7,500 diamonds. Apparently it took about 6,200 hours to make.
The necklace cost about seven million dollars. It was certainly one of the fashion highlights of her career. As it would be for anyone wearing seven million dollars around their necks.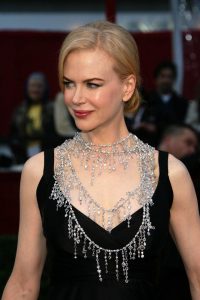 JENNIFER GARNER
$2.5 million
Jennifer Garner came to the 2013 Academy Awards dressed to impress. Her necklace was the centerpiece of her look. And for good reason.
The necklace was designed by Neil Lane and was one of the most expensive pieces on the red carpet that night. The necklace's diamonds were set in dark platinum. The overall effect was to make the piece look a little vintage.
The total cost of the necklace totaled up to about $2.5 million. Not sure we'd spend that kind of money on a necklace. But nobody can say it was an ugly piece.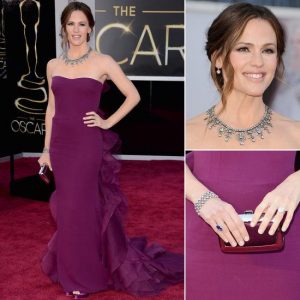 GLORIA STUART
$20 million
Gloria Stuart was nominated for Best Supporting Actress at the 1998 Oscars for her role in Titanic. She made serious waves when she arrived at the ceremony wearing this necklace.
It remains the most expensive piece of celebrity jewelry ever worn. It was designed by Harry Winston. It was meant to resemble the fictional Heart of the Ocean jewel worn in Titanic.
It featured a 15-carat blue diamond. Would you spend $20 million on a necklace? If you were Gloria Stuart you might.
KATE WINSLET
$2.5 million
Compared to the $20 million blue diamond necklace, $2.5 million seems downright thrifty, doesn't it? This yellow diamond necklace was worn by Kate Winslet at the 2010 Oscars.
The necklace was designed by Tiffany & Co. It was matched with canary diamond earrings and bracelets that cost a combined $975,000. Quite a look.
Kate Winslet doesn't exactly need any help looking gorgeous. But slap a few million dollars' worth of jewels on her and she does seem to glow. Thankfully she's a good actress, too.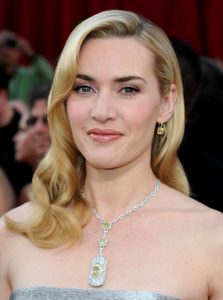 GWYNETH PALTROW
$1 million
Gwyneth Paltrow's 2012 Oscar outfit was the stuff of legend. It's considered one of her best all-time looks. And it's not hard to see why it's considered amazing.
Paltrow's white Tom Ford gown was already gorgeous enough. But her Anna Hu Harte Joaillerie cuff bracelet stole the show. The piece was called "Hearts of Winter."
The bracelet featured 2,368 diamonds. The bracelet alone is worth a million dollars. It's one of the most beautiful bracelets ever worn on the red carpet.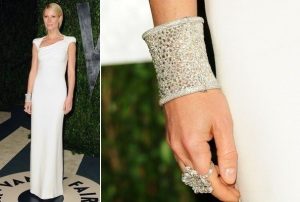 SANDRA BULLOCK
$6.4 million
Sandra Bullock doesn't really come across as the kind of actress who would wear jewelry expensive enough to fund most American's lifestyles for over a decade. But she's no stranger to glitz and glamor. She wore one of the most expensive pieces of celebrity jewelry ever.
For the 2014 Oscars, Bullock wore a bracelet that cost a whopping $6.4 million. And as if that weren't opulent enough, she also wore a pair of earrings that cost $1.8 million. Pretty incredible.
The jewels were certainly beautiful. Her look was celebrated and praised. Hopefully it was worth the price tag.
CATE BLANCHETT
$18 million
Cate Blanchett is one of the most beautiful women in the world. And also one of the most talented actresses working in Hollywood. She's also a paragon of fashion and showed up to the 2014 Oscars in the outfit of a lifetime.
While we don't know the prices of the individual pieces she wore, the total cost of her jewelry was about eighteen million dollars. The look included earrings, a bracelet and a ring.
The Chopard earrings were the most eye-catching piece. We've never seen earrings quite like it. And neither had most people.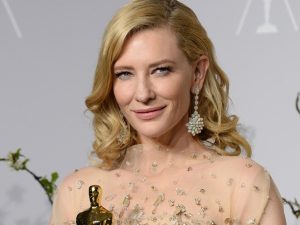 JENNIFER LAWRENCE
$2 million
Celebrity jewelry can tend towards the flashy and large. But Jennifer Lawrence's necklace was an exception. It was elegant, understated, and expensive.
She wore the necklace on the red carpet of the 2014 Academy Awards. Her look was simultaneously modern and classic. And the necklace could not have been more perfectly paired with her dress.
Jennifer Lawrence is a hot commodity in Hollywood right now. So it's no surprise to see her riding the vanguard of fashion.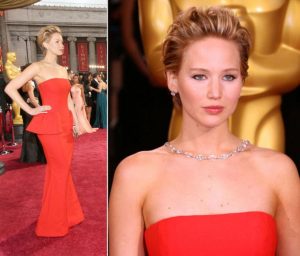 MARGOT ROBBIE
  $1.9 million
Margot Robbie got her hands on a seriously impressive piece of jewelry. This necklace was originally made for the Duchess of Windsor in 1938. It still looks amazing.
The necklace features 150 diamonds and 300 sapphires, set into 18-carat gold. It's valued at $1.9 million. Robbie looked downright royal when she wore it.
Obviously, there is no shortage of celebrity jewelry. This is only a small sampling of the extensive celebrity jewelry collections on display.