Even if you're not a rich person, when it comes to wedding, everyone tries to do their best, this point would be so much different among celebrities, here we round up some choices which have been made by them for engagement ring, maybe after reading this your choice would be different.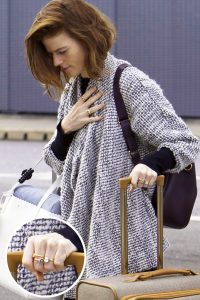 Rose Leslie and Kit Harington:

She stepped out with a huge diamond sparkling on her engagement finger.

Serena Williams and Alexis Ohanian:

The great Serena Williams said yes after seeing this huge beautiful diamond engagement ring.

Miranda Kerr and Evan Spiegel:

Super model Miranda Kerr and Evan Spiegel get engaged and the most beautiful diamond ring on her finger prove that.

Ciara and Russell Wilson:

Russell Wilson proposed the famous singer Ciara with this massive diamond wedding ring.

Alison Brie and Dave Franco:

She walked on the red carpet by this round diamond ring with other people screening in Hollywood.

Zooey Deschanel and Jacob Pechenik:

Beautiful mom_to_be walked out of Pilates class flashing her ring on.

Cameron Diaz and Benji Madden:

The diamond studded gold band ring of this actress rocker couple is the only conventional point.

Drew Barrymore and Will Kopelman:

The 4_ carat diamond ring designed by Graff  is the sign of their love.

Lady Gaga and Taylor Kinney:

She announced her engagement by an Instagram shot which show off her massive heart_shaped diamond ring.

Mila Kunis and Ashton Kutcher:

Mila's emerald cut diamond is estimated to be 5 carats, and the ring made their engagement public.

Nikki Reed and Ian Somerhalder:

They got engaged after 6-month dating, she said "can't tell you anything about it other than I love it more than anything in the world."

Scarlett Johansson and Romain Dauriac:

In 2013 French journalist proposed her with this adorable Art Deco ring, they got married shortly after the birth of their daughter Rose Dorothy.

Sofia Vergara and Joe Manganiello:

This whopping 6 carat diamond on Christmas 2014 was the reason paparazzi were around them all the time.

Kanye West and Kim Kardashian:

she flaunts her engagement ring which was from rapper Kanye West the ring was from Schwartz sparkler reportedly cost $ 8 million.

Jennifer Garner and Ben Affleck:

Ben Afleck declared his love for wife Jennifer Garner with this 4_5 carat gem.

Beyoncé and Jay-Z:

He didn't just put a ring on her finger, he went so much further for wife Beyoncé with a huge 18 carat diamond ring.

Angelina Jolie and Brad Pitt:

He popped the question with this 16_carat custom diamond Robert Procop diamond ring after seven years of dating.

Blake Lively and Ryan Reynolds:

Although they toughly tried to keep their engagement and wedding private, there's no way the Lorraine Schwartz diamond can go under the radar.

Sarah Jessica Parker and Matthew Broderick:

One of the hollywood's longest standing marriages is marked by this beautifully cut yellow gold diamond ring.

Heidi Klum and Seal:

Despite an amazing proposal settled by Seal on top a glacier and this gorgeous yellow 10 carat engagement ring , their marriage sadly ended in 2012.

Jessica Biel and Justin Timberlake:

Justin proposed her after a long time of dating, she deserved a vintage _ inspired 6 carat diamond.

Victoria Beckham and David Beckham:

This massive diamond encrusted engagement ring was perfect choice for this incredible couple.