Accessorizing with jewelry:
Accessories are able to make all outfit look perfect. There would be obviously no reason to avoid you from spicing up your safe box with some fabulous jewelry.
Have fun with decorating your appearance and let it make a definition about your style.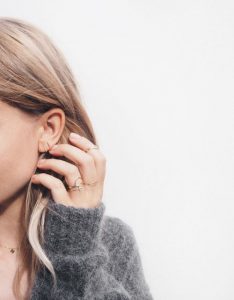 Occasionally accessories:

according to the place you are about to go, an appropriate jewelry is all you are thinking about, at work? In that case you must be more conservative with your accessorizing, hanging out with your friends, a party? then be more daring with your style.
small, exquisite is the best option for work, stud earrings in place of dangling ones are more acceptable. Never choose a distracting accessory.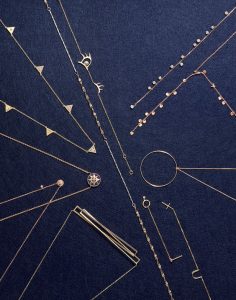 Consider the whole options you have got:
When it comes to jewelry you've got so many options:  earrings, necklaces, bracelets and rings are all available, the material of jewelry and their shapes, lengths are in different type so you don't need to be worried about it, if you are not so familiar with accessorizing, strat with stud earrings, they are the best alternative for every occasion and can be set with every other kind of jewelry as well.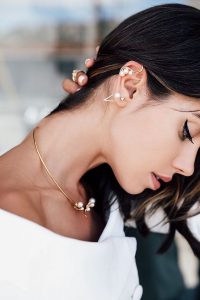 Your outfit should be in the center of consideration:
If your outfit is colorful and busy with aloud print if you're wearing a plain, or a simple dress, choose more creative jewelry to transform your look, just consider your accessories should not be in compete with your outfit.
Do not wear necklace if your outfit is already embellished with jewels, try simple earrings.
putting the outfit together, you can match up the colors, together by choosing a matching jewelry, for example, wouldn't be a good idea if you wear a leopard print top and a huge, statement necklace you could be much more adventurous with a plain white tee or blouse.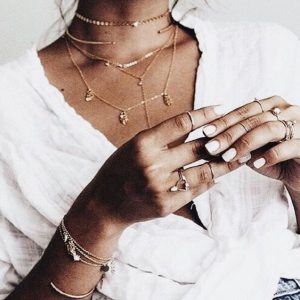 Mix and match:
It used to be a taboo to mix and match different type of metal together such as gold, silver, rose gold, etc. this is no longer the case, I would say that you can feel free to mix up them the other items are size, texture, width. Wear necklaces of different lengths wear bracelets of different width
How about stack rings on your fingers as well, a regular ring and a midi ring on the same finger or doubling up would be fine.
Stacking wrist wear and necklaces as well (watches, cuffs, burgles, bracelet)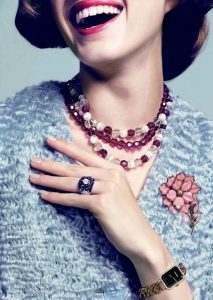 The neckline is important:
If your neckline be visible and your necklace complete it and yet not compete with your outfit, the right necklace can emphasize and enhance your outfit, be careful about your choices cause a wrong one can be a distraction and take away from what you are wearing.
V neckline needs a long pendant necklace the necklace should hit right above your cleavage
A sweetheart neckline would happily match with a short, statement necklace.
Crew neck cut clothing has a good look, if your match it up with layered necklaces and statement necklaces.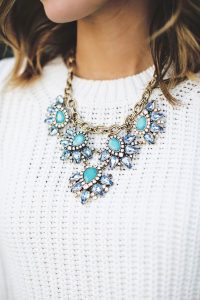 Try a centerpiece:
Build around one piece of jewelry to begin accessorizing such as a statement necklace, rings or bracelet and make the focused part of your outfit, and all the other pieces could be minimal, for example a focal point earrings, need a simple band on your finger and dainty necklace.
Matching a center piece necklace and star earrings and minimal rings or bracelet would be a great idea.
The focus of your accessorizing could also be your watch or your bracelet, if this is the case, wearing earrings or necklace that would compete with your wrist jewelry is not a good idea.
Matchy_matchy :

you don't have to wear the same color of your outfit for your jewelry. Multiple complimentary colors or pop of color if you are wearing neutral colors may a better look on you.
If you want to have a safe bet, metal jewelry is the best idea when you are not really sure about what color to wear
A safe choice for all colored outfit is diamonds.
Neutral colors are tasteless so adding some vivacity to your outfit with color jewelry will make you appearance a different personality.